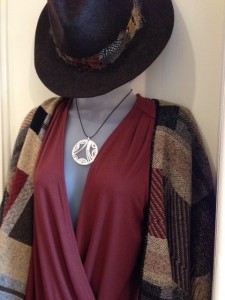 We think so! If you're into layering (and we are!) the Cape is the perfect solution to a jacket,not only for the warmth factor,  but for it's versatility . Wear it belted, long and flowy, as a topper, as a dress, as a hoodie, over the shoulder or secured with a brooch! They're great over skinny leggings and boots, cropped pants and flats, or as a "dress" , cinched in the middle with a belt. We love Aldo Martin's classic plaid cape, Curio's "Burberry" fringed cape, Parkhurst's faux-fur trimmed cape, and Bitte Kai Rand's long, shawl collar kimono-style cape. Check out  our "City Wrap", in four colors, that can be worn 6-no 7!- different ways!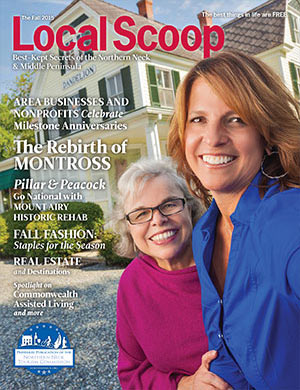 The Dandelion is 40! Read about it in the Fall 2015 issue of The Local Scoop. You can also read our story on TheLocalAccent.com – look for "The Dandelion: 40 Years", written by Larry Mazzeno.
Here is an excerpt: "
In 1975 three young mothers wanting a local place to shop for children's clothing decided to open a store themselves. The Dandelion, originally located in White Stone, moved to the old Methodist parsonage in Irvington in the late 1970s and has become one of Virginia's best shopping destinations.
Current co-owners Jean Ward-Smith and Sheila Broderick Brown are proud of the store's transformation into a premier boutique for women's clothing, jewelry and accessories, and gifts for special occasions. The Dandelion also offers gifts for children and a selection of accessories for men."